"As you arrive, the number of people, size of the site and the rows and rows of magnificent aircraft are simply overwhelming.

If you were to walk past ... not down ... each row of airplanes, you would cover 5.2 miles!
Typically about 2,800 show aircraft participate at EAA AirVenture Oshkosh, including homebuilts, antiques, classics, warbirds, ultralights and rotorcraft..."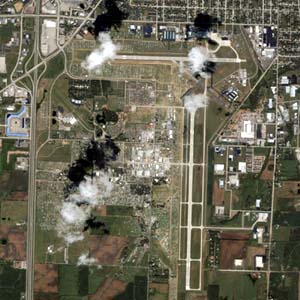 Wittman Field.
with the "Worlds Busiest Control Tower"
(for a week).

"This high-resolution satellite image was taken by the IKONOS satellite as it passed overhead Saturday (July 31, 2004) at 17,000 mph.
Thanks to Space Imaging for providing the photo!."

Full satellite image - 2 MB
Full satellite image (smaller version) - 225 K
AeroShell Square - 508 K
Museum and Pioneer Airport area - 418 K "